Welcome to the Litchfield Home Page

Montgomery County Health Department COVID-19 Update
Litchfield City Council special meeting on ambulance tax increase, 9/16/21, 5:30pm:
Click Here to join Zoom Meeting
Litchfield City Council meeting, 9/16/21, 6:30pm:
Click Here to join Zoom Meeting
WAM Computers
Will buy your old computer!

The average price for an old usable computer is over $100

Bring your old computers and notebooks to WAM and if it is a system that we can refurbish and sell it, we will buy it from you! If it is too old or not working, we will recycle it for free. Hard drive data will be completely destroyed to protect your personal information. For CRT monitors and printers, there is a $10 recycle fee. No charge for old LCD flat panel displays.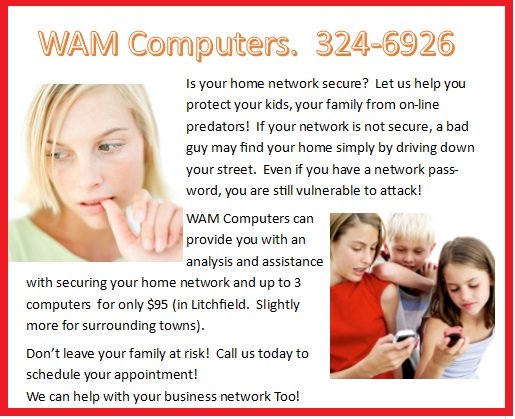 WAM Computers
FLAT RATE REPAIRS
Is your computer running slow? Does your computer have viruses or spyware? Do you need Windows
re-installed?
Now you don't have to worry about the cost.
All in store computer software repairs are:
$125 or Less!
Software repairs include:
Removal of all viruses, malware and spyware from your computer
We will Install FREE AVG Antivirus/Antispyware software
Repair registry and start-up errors
Install all critical Microsoft updates including services packs
Verify proper operation of standard computer hardware
Computers are normally completed in 3 to 5 business days.
No appointment necessary.
No pre-payment required.
Expedited service available ($25 additional).


User Services Menu
Online email
Sky View Drive In And Westside Cinema Schedule
Upload files to your personal web site
Add a form with results mailed to you on your personal web site
On-line classifieds
Stock and News Ticker
You can now make changes to your web site while online. You browser must accept cookies for this to work.
The HTML Wizard is back
Be sure to submit your organization's event news, we'll post it for free.